Workshops for Elementary students
---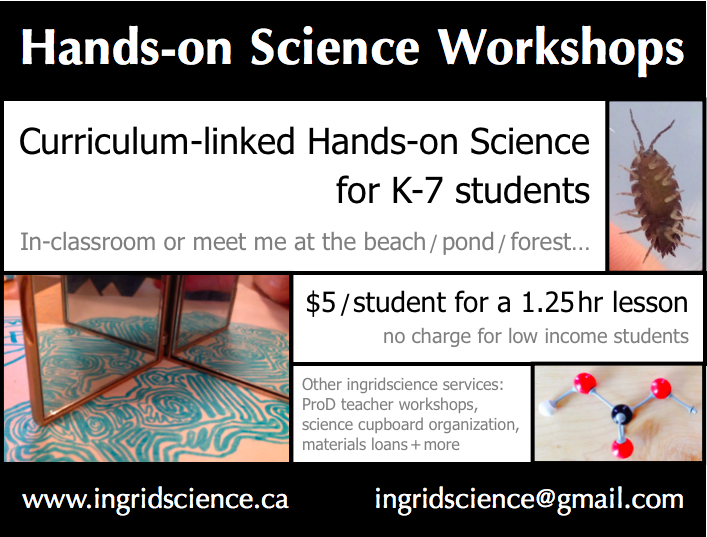 In-classroom or outdoor student workshops on any K-7 BC Curriculum science topic.
Ingrid brings all materials. $5/student (no charge for low-income families).
Outside of Vancouver, 2 or 3 workshops in one day preferred.
Contact Ingrid with requests, or choose from these selections:
Chemistry workshop Selections (pdf)
Physics workshop Selections (pdf)
Earth and Space Science workshop Seletions (pdf)
Biology workshop Seletions (pdf)
ProD workshops for Elementary Teachers
---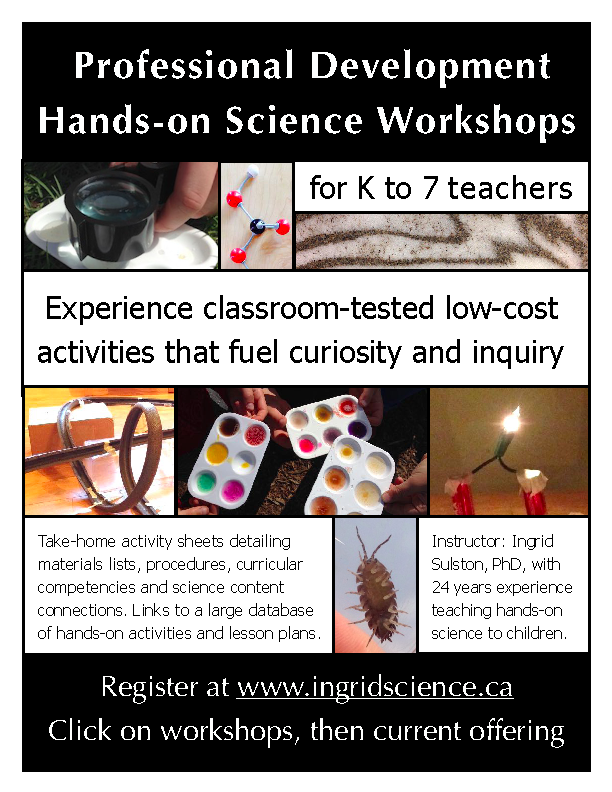 Scheduled workshops
On Provincial and Vancouver District ProD Days.
At General Gordon Elementary School, 2268 Bayswater St, Vancouver.
Registration $40.
Hands-on Physics for K-7 classrooms
Hands-on activities exploring forces, energy transformations and Newton's Laws.
April 29th 2019 REGISTER
October 2019 Provincial ProD Day (Registration opens September. Contact Ingrid for an email when registration opens)
Indigenizing Science: Hands-on Science with Indigenous Content
2020 Provincial and District-wide ProD Days
Workshop format: Try out low-cost teacher-tested activities that fuel curiosity and inquiry, and engage the diverse learners of the classroom. Documentation for each activity includes Science Curricular Competencies and Content connections, materials lists and links to a database of hundreds of science activities and lesson plans. If you are looking to build your science activity collection, or are starting to bring hands-on science into your classroom, ingridscience workshops bring new ideas in an environment of discussion and sharing.
Personalized workshops
On a topic and date to suit your school.
Ingrid brings all materials to your school. $150/hr for a group of teachers.
Request personalized workshop.
Flyer for ProD Workshops (pdf)
Other services supporting hands-on science in schools
---
Science room organization, science kit development, other personalized services that help you teach hands-on science.
Free advice and suggestions always available via e-mail.
Contact Ingrid to discuss.
Flyer for all services (pdf)